Early bird tickets sales have ended. Tickets are available at the door with cash or card
---
Can you believe it? Ecstatic Dance LA is turning five years old this June! We've been dancing, playing, stretching, praying, meditating, toning, healing, eating, and gathering community around the love of music and freeform dance consistently for five whole years, and we are just getting started! There's so much more development on the horizon for this beautiful community; but before we look too far ahead, we have to acknowledge and celebrate how far we've come!

We are so grateful to have this beautiful event to return to again and again. Come celebrate the beginning of our 5th year and revel in the goodness we've got cooking up.

Our co-founders Robin Parrish and Atasiea will co-facilitate the journey. Robin's Dj sets with live percussion always takes us so high and Atasiea will lead us through an adventurous warm up in his Yoga & Movement-Connection workshop. As producers and facilitators they've both grown leaps and bounds working together over the years. They are excited to collaborate on this special celebration in 2019.

Whether you're a regular or brand new to Ecstatic Dance this event is for you. It's an all ages, substance free, dance like nobodies watching goodness on a Sunday afternoon. Ecstatic Dance is always an opportunity for everyone to experience release and liberation through free-form movement. Come join this incredible dance tribe and world-wide movement as we rise up together and lay it all on the dance floor!


---
Ecstatic Dance LA weaves together world class DJs, immersive sound journeys and free-form movement. It's a substance-free, all ages community celebration where you can simply BE yourself and experience rejuvenation & inspiration through connection, dance & music! (The first and third Sunday of every month)


EVENT SCHEDULE

3:15pm: Doors Open | Stretch + Connect
3:30 - 4:30: Movement-Connection with Atasiea
4:30 - 6:30pm: ECSTATIC DANCE with ROBIN PARRISH
6:30 - 6:45PM: Sound Bath
6:45 - 7PM: Closing Circle

+ + + Superfoods café with Chef Mallori + + +

+ + + Massage and Healing Touch with Atasiea & Guest practitioners + + +

+ + + Chill out zone & altar space + + +


---
ROBIN PARRISH

Robin Parrish is the co-founder and a resident DJ of Ecstatic Dance LA. He specializes in live performance, drums, percussion and sound healing. His rhythmic Ecstatic Dance journeys include a diverse range of music from multiple genres designed to light up the dance floor and paint a theatrical score that inspires heartfelt movement and expression. Robin's passion in life is in creating experiences that evoke transformation and healing in others. Expect expansive, melodic and rhythmic crescendos as the music lays the foundation for physical release, mind-body nourishment and liberating play. Genres include: World Music, Tribal sounds, West-Coast Bass, Deep House, Afro Funk, Cinematic and more.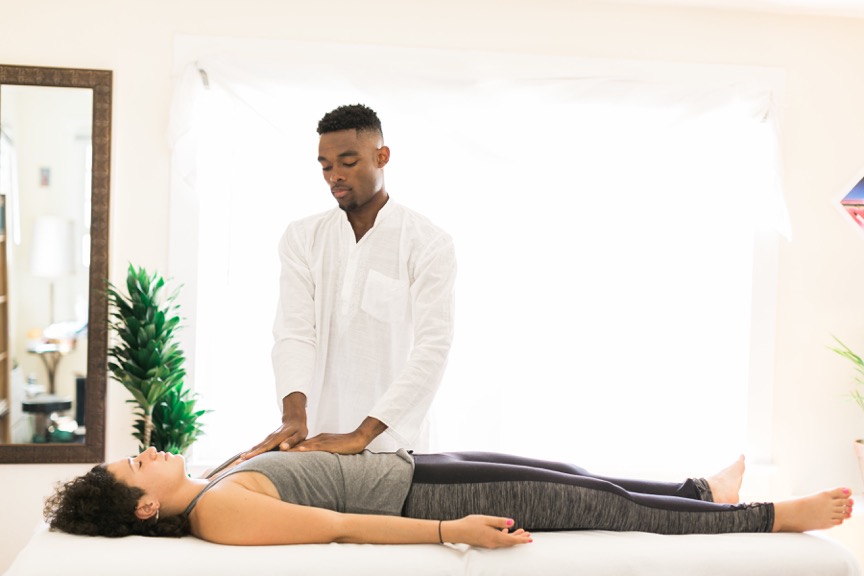 Join Atasiea for mindfulness & movement practices incorporating meditation, yoga stretches, authentic relating, contact improvisation exercises, and group ensemble activities with mind/body awareness that are tailored to help individuals warm up for an ecstatic dance journey.

Atasiea- 'Oneness' (aka Kenneth L. Ferguson) is a Healer, Professional Actor, Dancer, and Martial Artist, Reiki Master, Bodyworker, Ashtanga Vinyasa Yoga Instructor, Minister, & Dancing Freedom Facilitator. He is the Co-founder/producer, resident facilitator, and healing arts practitioner of Ecstatic Dance Los Angeles. He resides in Echo Park LA, where he runs 'Angelic Presence Healing Practice' doing massage, energy healing, private yoga instruction, and spiritual guidance counseling. As an intuitive healer he provides, physical, emotional, and psycho-spiritual support to all people through bodywork, Reiki, sound healing, channeling, conscious dance, and ceremonial facilitation.


---
How it works:

We open with a special warmup yoga or movement class facilitated by a skilled practitioner. The opening class blends seamlessly into the the two hour freeform dance journey facilitated by our guest DJ. At the end of the DJ set we close with a sound bath or group exercise to ground and complete the experience.


What to expect:
Live DJs | Free-Form Movement | Workshops | Yoga | Sound Baths | Massage | High Vibe Food | Tribe
Ecstatic Dance is a community gathering for people who want to express themselves freely, to connect, and to expand together. Join us and enjoy a safe and inspiring space to dance without talking, drinking, and the nightclub vibe. This is about self-expression, freeing your mind and body, and connecting with yourself and those around you. No booze, no shoes and no chit-chat on the dance floor helps us keep it intentional. Amazing music helps us keep it all about Dance.



Guidelines:

▸ No talking on the dance floor (there's room to talk in the lounge space or quietly at the edge of the dance floor)

▸ Move your body however you wish

▸ Maintain care/awareness for the space and those around you

▸ This is a drug and alcohol free event

▸ No photos or videos; cellphones muted and out of sight

▸ Ecstatic Dance is a barefoot practice. If you need to wear shoes due to health reasons, please note dance-specific shoes are allowed, but only shoes that have not been worn on the street

▸ Children under 16 dance free!

▸ Complimentary earplugs ;)


---
What to Bring:

1. Loose-fitting clothes that let you move your body and free yourself

2. Water and a water bottle. You can refill it at the venue.

3. A good attitude, open heart, your business card or flyers for networking


---
Tickets:

$16.50 - $17.90 online | $20 At Door